Medical Review Turnaround Time

Turnaround Time (TAT)
If you need a review completed quickly and accurately, MRIoA is the answer.
At MRIoA we understand that many of our clients are working under tight time frames. Our extensive experience in the physician peer review industry has allowed us to streamline processes resulting in among the fastest turnaround time (TAT) in the industry. MRIoA offers several standard and expedited TAT options as well as the ability to create a custom process based on client needs. During implementation we can discuss your specific TAT requirements. We are also committed to timely responses to our client's inquiries by email and telephone; in fact, our client satisfaction rating was 95% in 2015. Our clients can expect a response to any inquiry within one hour.
Standard review
Overall TAT last year was 2.15 business days (including expedited cases). Average business day TAT for Standard cases in 2015 was 3.05 days and calendar TAT was 4.14 days.
Same Day Review
Reviews are completed and returned the same day they are received.
24 Hour Review
Reviews are completed within 24 hours of the time received.
48 Hour Review
Reviews completed within two business days.
Below, you'll find the steps that each case goes through. Years of experience have helped us expedite this process. These steps also ensure that every case completed by MRIoA is of the highest quality and value.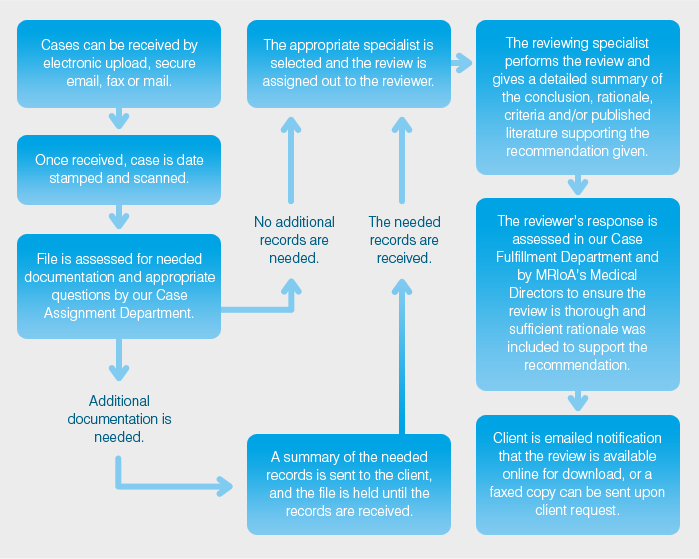 Please call MRIoA marketing to discuss any specific review or TAT needs.

Request Information
Want additional information? We're happy to provide sample review reports, sample quality reports, and answers to any questions you may have.
"I have been in the claims business for 43 years and have used MRIoA for the past 20 years with 4 or 5 different companies. I've always had good results that were objective and defensible. Thank you for your support and service."