Medical Review Institute of America (MRIoA) will hold an exclusive discussion of what healthcare organizations can expect under the new administration
SALT LAKE CITY, UT (December 21, 2020) – Medical Review Institute of America (MRIoA), is the market leader for technology-enabled Utilization Management (UM) and clinical review solutions for Health Plans, TPAs, PBMs and Self-Insured Employers. On January 14, 2021 at 1:00 pm ET, Jay Keese, CEO at Capital Advocates, an industry expert, will discuss potentially significant changes in healthcare under President-Elect Biden's administration.
We'll Share Insights on Policies Most Likely to Succeed:
Expanding the Affordable Care Act (ACA)
Creating Medicare-style Public Health Insurance Options
Reducing Drug -Costs
You will want to hear first-hand how healthcare organizations can get ahead of the policies most likely
to be implemented.
During the webinar, industry experts will discuss:
How these policies may impact health plans, TPAs, PBMs and self-insured organizations
Strategies to mitigate the potential higher cost with innovative, patient-centric solutions to help
optimize care (i.e., 2nd opinions)
How to partner with the industry-leading IRO to help secure the sustainability of your healthcare
organization through utilization analytics and new models that minimize or eliminate the PA
process
Mrioa will also share recent case studies of how savings of $675,000 for every 100,000 members (3:1 ROI) can be achieved without any IT integrations
Join us on January 14, 2021
45 minutes discussion and 15 minutes Q&A
1:00 pm ET | 12:00 pm CT | 11:00 am MT | 10:00 am PT
Your Exclusive Invite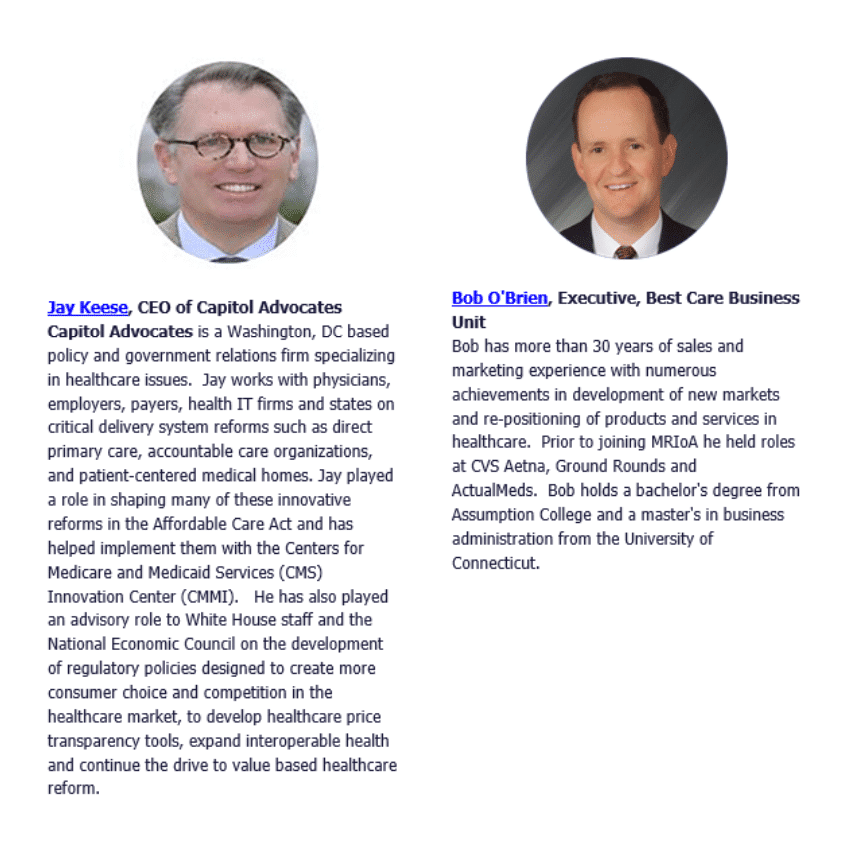 For more information about MRIoA or to learn about the Webinar, contact